List of Products for Export
Mosquito Net
Our product is a WHOPES Recommended LLIN made of high density polyethylene (HDPE)
Product is a WHOPES Recommended LLIN made of high density polyethylene (HDPE) monofilaments incorporated with WHO approved insecticide providing long lasting protection against malaria, dengue, chikungunya, yellow fever, filariasis, encephalitis, leishmaniasis and other diseases spread by insect vectors.
See Product Specifications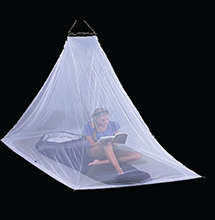 What is special about our products comparing to other HDPE and polvester LLINs?
READY TO USE: No chemical treatment is required.


HIGHLY COST EFFECTIVE: Technology development, and marketing by Lokenath Pharmaceuticals Pvt. Ltd. (ALL UNDER ONE ROOF). Only HDPE LLIN directly marketed by the manufacturer. Our product is the most affordable: High durability and extended life considerably reduce the cost on personal protection against insect vectors.


GREEN PRODUCT: Product is packed in ox biodegradable plastic bags.The net (HDPE) can also be recycled.


DURABLE: Made of High Density Polyethylene (HDPE) monofilaments. Uses 150 denier heavy duty HDPE yarn, much stronger than 100 denier polyester yarn. Product has unsurpassed bursting strength (above 650 kPa) at the seams. Special high tenacity monofilament yarn is used for sewing.


LONG LASTING: No fear of losing the insecticide on washing because product uses true controlled release of insecticide incorporated into the HDPE monofilaments. Very high wash resistance: Bio efficacy is high even after 25 washes.


BETTER BIOEFICACY: The insecticide (alpha-cypermethrin) used in product is a broad spectrum insecticide and is very effective against most common species of mosquitoes. Insecticidal activity is restored within 24 hours after wash.


THE MATERIAL: Product is made up of high density polyethylene monofilaments.
INSECTICIDE INCORPORATED NET: Reservoir of insecticide in the fiber core True controlled release of insecticide molecules from fiber core to its surface.

Insecticide lost from surface on washing is replenished from the reservoir within After 25 washes: Bioefficacy is 90-95% and long lasting (up to 5 years)

No insecticide reservoir in fiber core Entire amount of insecticide is coated on to the fiber surface.

No replenishment of insecticide lost from surface is possible after 25 washes: Bioefficacy is far less than that of new polyester net. Polyester nets last for a maximum of 2 years due to decreasing bioefficacy and weaker yarn.